Energy-Based Treatments
Light, Laser, Radiofrequency (RF), Electromagnetic (EM)
HaloTM
wrinkles | fine lines | stretch marks | skin texture | acne scars | skin resurfacing | scar revision | pigmented lesions | collagen stimulation | melasma | dyschromia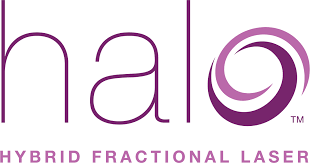 Even people who follow good skincare habits will experience blemishes, discoloration, and wrinkles caused by years of exposure to the harmful rays of the sun and other environmental factors.
The Halo hybrid laser system is a breakthrough laser skin rejuvenation treatment that takes care of skin issues through collagen stimulating treatments, dyschromia treatment, and more! The Halo treats pigmentary conditions and is effective for melasma ayurvedic treatment, collagen stimulating peptides, melasma treatment, stretch marks treatment, and much more! Wrinkles, fine lines, scarring, and pores are all treatable with Halo. Outstanding as collagen stimulation therapy and for stretch mark removal!
How does Sciton Halo work?
The Halo fractional laser combines ablative with non-ablative wavelengths and targets both the top layer of skin and the deeper tissue underneath. A powerful skin rejuvenation treatment, the Sciton Halo is the first to offer two wavelengths — allowing two treatments to be performed in one session, saving time and expense and maximizing results!
Length of treatment
The procedure takes about 15-45 minutes, depending on the treatment area(s). Patients benefit from 1-3 treatments with Halo, depending on skin conditions & concerns.
Downtime
Recovery time takes anywhere from 3-7 days, depending on the settings used and individual healing. Redness, swelling, heat, crusting, dryness, and peeling are anticipated side effects during recovery.
Results
Halo laser treatments show results in under a week and will continue to improve over 3-6 months as collagen stimulation gradually occurs. The improvements can last for years. Combining the Halo technology with other laser technologies will produce optimal skin correction.
Procedures
We offer a full suite of the best aesthetic enhancement technology available today. Our modern laser dermatology institute is comfortable, welcoming, and has the latest innovations.
Cellulite, Fat, Sculpting
In the field of dermatology?
STEP INTO THE
NEXT LEVEL
Masterclass Calendar For 2022
Now Available
Shino Bay reviews & Testimonials
For my Botox and microneedling, this is where I go. I'd never venture from these trained experts. Permanent make-up is next!
Dylan C.
This office always has me leaving with a smile. I love when I go for my hyrdafacials and oxygen facials! GREAT team and VIP service, as well as very well skilled doctors and staff. Valet right across the street, too!
Marissa H.
I've been treated by three staff members for various cosmetic procedures, including PDO threads and body contouring! I'd be hard-pressed to share with you my favorite. All very experienced & competent, all very friendly.
Travis P.
Skin Insights: The Shino Bay Blog
We want to be a resource for you when it comes to the health of your skin. Check here often to learn more about your skin, caring for it, and read empowering skin stories. There are regular updates!