Energy-Based Treatments
Light, Laser, Radiofrequency (RF), Electromagnetic (EM)
Affirm LaserTM
Skin tightening | scar prevention | scar reduction | collagen-stimulating | skin rejuvenation | fine line & wrinkles | hyperpigmentation | acne scars | melasma | sun damage
Are you tired of looking tired? Fine lines, wrinkles, scarring, and loose skin can detract from the appearance of health and vitality. Affirm laser rejuvenation is a nonsurgical way to turn back the clock.
Affirm fractional laser treatment is highly effective and can deliver better and faster results with less pain than other laser products. Affirm facial treatment is ideal for overall skin rejuvenation and tightening. The procedure stimulates collagen and helps with scar prevention, reducing acne scars, hyperpigmentation, fine lines, wrinkles, melasma, and sun damage.
How does Affirm Laser work?
The Affirm CO2 laser is nonablative (it does not peel skin) and operates using 1440 and 1320 nanometers. These work in tandem to heat both the deep and superficial layers of the skin. The 1440nm wavelength addresses the upper levels of the skin and treats surface conditions. The 1320nm wavelength bypasses the top layer of skin, focusing on deeper levels to create many more microcolumns of thermal injury — destroying damaged collagen fibers and slowly replacing them with new collagen and elastic fibers, lifting depressions and wrinkles from the bottom up. This thermal heat stimulates the growth of new collagen and elastin.
Affirm skin tightening occurs when the 1320nm wavelength laser causes contraction of deep collagen and stimulates newer collagen deep down. Affirm laser treatment can help facial cut scar prevention and prevent scar formation. The Affirm CO2 laser is ideal for reducing acne scars and laceration scar prevention.
Affirm laser treatment enhances the visible appearance of the skin and its underlying structure — with much less downtime compared to more aggressive lasers or peels.
Length of treatment
Affirm laser rejuvenation takes about 20-40 minutes per procedure, depending on the area under treatment. Three to four sessions a month apart are recommended for maximum effect.
Downtime
Downtime is minimal. There will be a slight redness that will improve over 24-48 hours. You can resume normal activities the following day.
Results
Enjoy firmer skin, tightened laxity, more even skin tone, and any (or all!) of the following:
Wrinkles, folds, and fine lines reduced or eliminated,
Discoloration caused by exposure to the sun's UV rays made even with the rest of the facial skin.
Actinic keratoses removed. These are dry, scaly patches on the skin's surface caused by overexposure to the sun.
Skin texture refined
Acne scars significantly diminished.
Other scars reduced, such as from an accident or a surgery.
Enlarged blood vessels reduced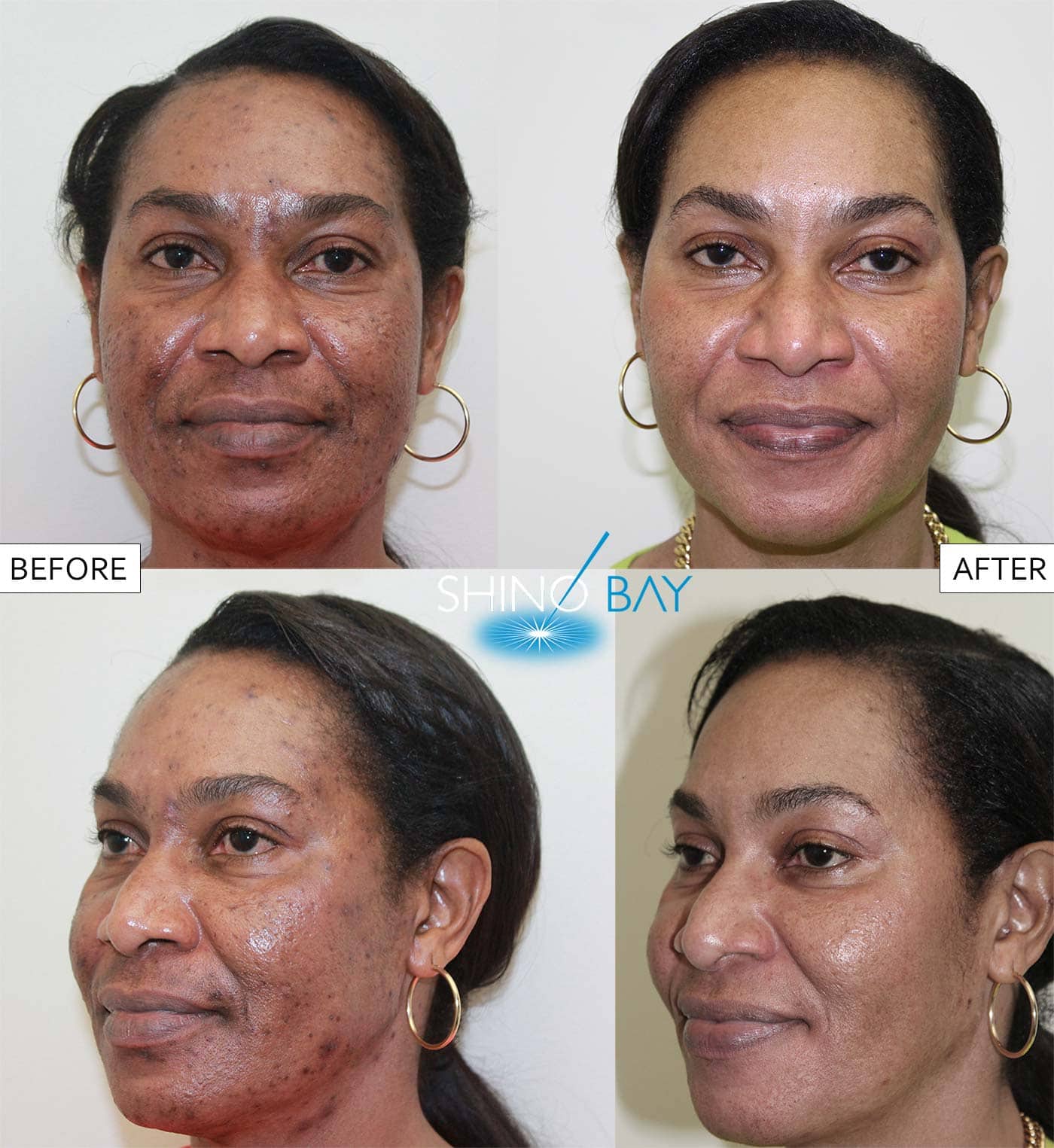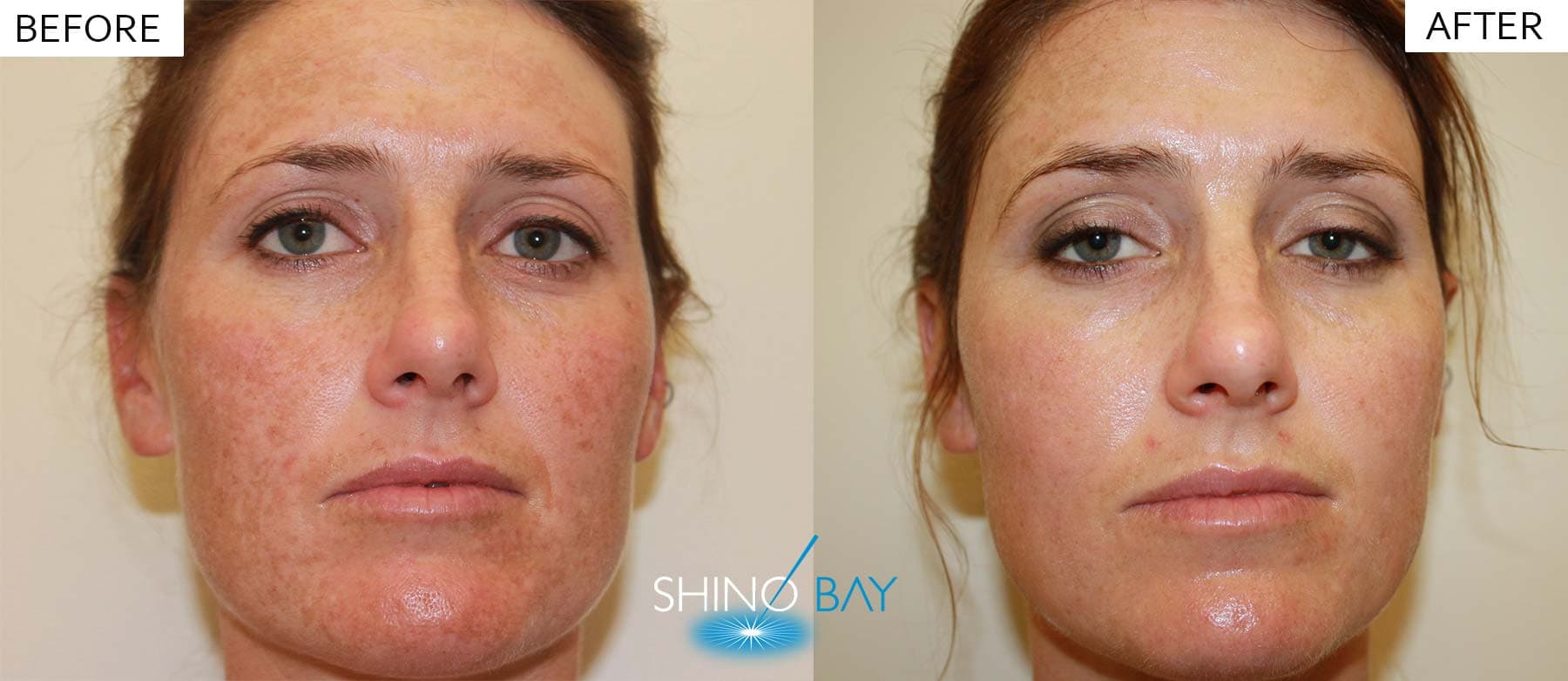 Similar Treatment Results:
Similar Treatments
We may recommend different treatments based on your desired outcome and other specific requirements:
More aggressive option: SmartSkin CO2
Less aggressive option: Clear & Brilliant
Procedures
We offer a full suite of the best aesthetic enhancement technology available today. Our modern laser dermatology institute is comfortable, welcoming, and has the latest innovations.
Cellulite, Fat, Sculpting
In the field of dermatology?
STEP INTO THE
NEXT LEVEL
Masterclass Calendar For 2022
Now Available
Shino Bay reviews & Testimonials
For my Botox and microneedling, this is where I go. I'd never venture from these trained experts. Permanent make-up is next!
Dylan C.
This office always has me leaving with a smile. I love when I go for my hyrdafacials and oxygen facials! GREAT team and VIP service, as well as very well skilled doctors and staff. Valet right across the street, too!
Marissa H.
I've been treated by three staff members for various cosmetic procedures, including PDO threads and body contouring! I'd be hard-pressed to share with you my favorite. All very experienced & competent, all very friendly.
Travis P.
Skin Insights: The Shino Bay Blog
We want to be a resource for you when it comes to the health of your skin. Check here often to learn more about your skin, caring for it, and read empowering skin stories. There are regular updates!