Energy-Based Treatments
Light, Laser, Radiofrequency (RF), Electromagnetic (EM)
SmartSKINTM CO²
Skin resurfacing | regenerate skin | erase sun damage | Smooth wrinkles | erase fine lines | skin rejuvenation | minimize scars | sun damage | age spots | skin imperfections

The newest advances in laser technology have revolutionized CO² laser skin resurfacing and can now safely and precisely remove outer layers of damaged skin to reveal the underlying skin which is softer, smoother, and often dramatically younger-looking. It can also stimulate the regeneration of healthy skin underneath (LaserSkinRenewal), for a youthful and beautiful appearance.
SmartSkin CO² laser resurfacing is a skin regeneration treatment to smooth forehead wrinkles, erase fine lines and wrinkles, minimize acne scars, and much more. SmartSkin works on skin cell regeneration to erase sun damage on the face and is effective as an age spot remover. Depending on the treatment intensity, patients can see a dramatic improvement in as little as 1-3 sessions. Whether it is to minimize scars on the face, for skin imperfections removal, or for age spot treatment, SmartSkin works!
How does SmartSkin work?
The SmartSkin fractional CO² laser works by fractionating the laser into thousands of microscopic beams, creating microcolumns of injury and leaving specific portions of the skin untreated. Cells begin healing immediately and prompt a natural regenerative response from the body. CO² laser treatment is one of the latest technologies for laser skin rejuvenation
Length of treatment
While the treatment takes around 30 minutes, the downtime is more significant.
Downtime
Downtime is adjustable by varying the depth intensity of the treatment. Depending on the treatment, there may be 2-3 days of redness and swelling, particularly around the eyes, and settling over the next 3-5 days.
Results
Our skin rejuvenation clinic produces superior results using SmartSkin CO² and can easily make your skin look five or more years younger. The CO² micro ablative laser is the Gold Standard for rapid and optimal enhancement in as little as one treatment.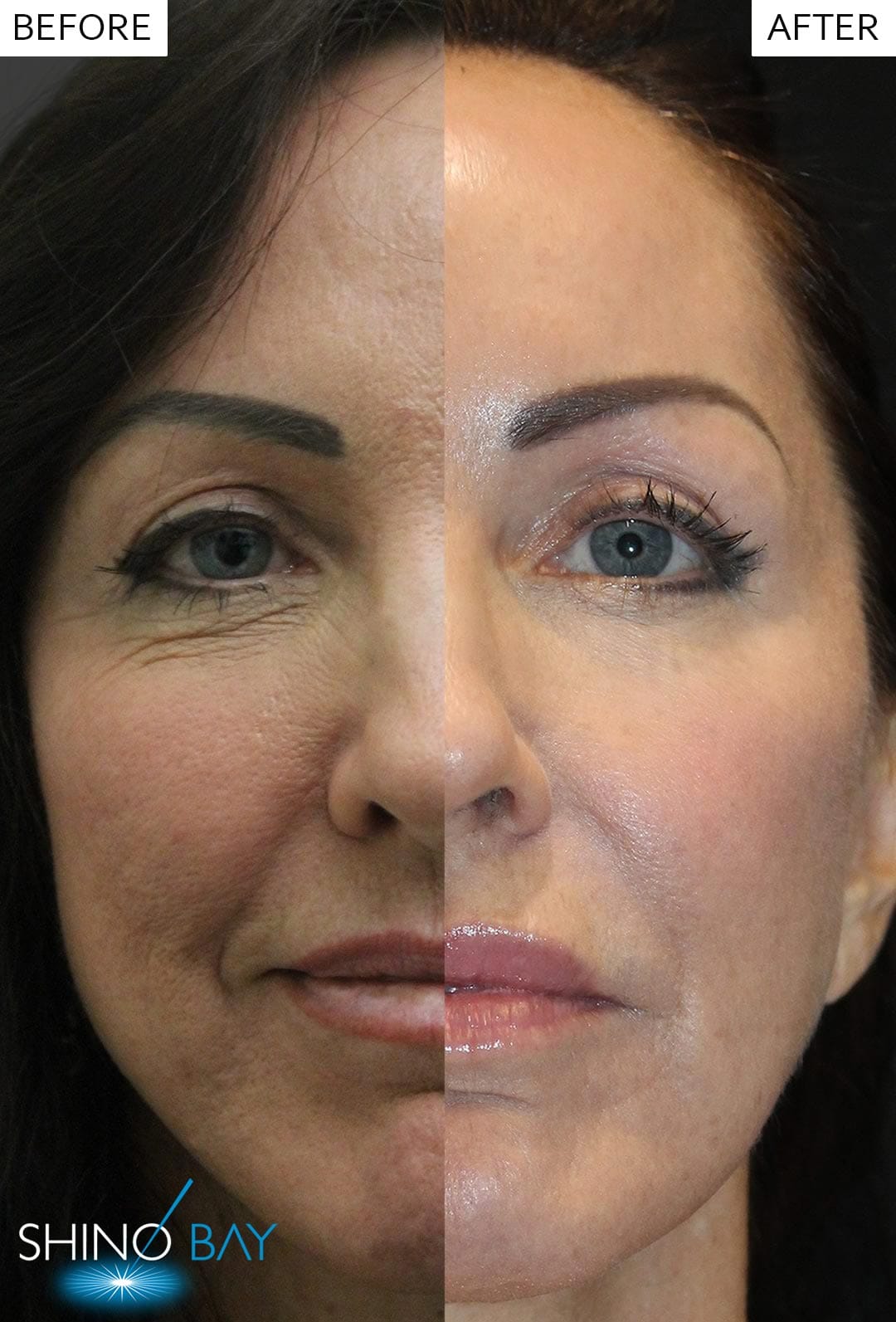 Procedures
We offer a full suite of the best aesthetic enhancement technology available today. Our modern laser dermatology institute is comfortable, welcoming, and has the latest innovations.
Cellulite, Fat, Sculpting
In the field of dermatology?
STEP INTO THE
NEXT LEVEL
Masterclass Calendar For 2022
Now Available
Shino Bay reviews & Testimonials
For my Botox and microneedling, this is where I go. I'd never venture from these trained experts. Permanent make-up is next!
Dylan C.
This office always has me leaving with a smile. I love when I go for my hyrdafacials and oxygen facials! GREAT team and VIP service, as well as very well skilled doctors and staff. Valet right across the street, too!
Marissa H.
I've been treated by three staff members for various cosmetic procedures, including PDO threads and body contouring! I'd be hard-pressed to share with you my favorite. All very experienced & competent, all very friendly.
Travis P.
Skin Insights: The Shino Bay Blog
We want to be a resource for you when it comes to the health of your skin. Check here often to learn more about your skin, caring for it, and read empowering skin stories. There are regular updates!